FAQ
WHAT IS STORROR PARKOUR PRO?

SPP will be the world's first online multiplayer parkour video game, and it's currently in development. To produce this ground-breaking game, we've teamed up with London-based indie studio Hole In The Sleeve to capture the essence, challenge, and pure fun of parkour, with fidelity never before seen. Read the blog for background, and watch our teaser trailer (for illustrative purposes, it does not show current gameplay). By buying early access, you are helping to support the game's development. Before buying, see below for important details!
WHEN CAN I PLAY IT?

STORROR Parkour Pro is still in the early stages of its development. The finished game won't be ready for some time yet. We plan to release versions for Xbox and PlayStation consoles and PC when it is. But if you have a Microsoft Windows PC with suitable gaming specs* you can play the demo game right now by buying early access.
HOW CAN I PLAY IT?

Right now, SPP is only available via early access and the demo can only be played on PC.
WHEN WILL THE GAME BE FINISHED?

At present, we estimate the finished game should be available in late 2024. But there's no guarantee on this, plans and timescales may well change. And, in common with all video games in development, there is no guarantee that a completely finished product will be released. This is a risk you accept when buying early access.
CAN I DONATE TO SUPPORT DEVELOPMENT?

Yes! You can donate any amount to support the developers and the game's progress HERE.
Collapsible content
RECOMMENDED MINIMUM PC SPECS

CPU: Intel i5 or AMD/Ryzen equivalent
GPU: NVIDIA GeForce GTX 970 or AMD/Radeon equivalent
Ram: 4Gb
Disk: 1Gb
OS: Windows 10/11
Demo playable on PC using a PlayStation controller or an Xbox controller
TECH SUPPORT

Tech support is provided via our SPP Discord server where requests for help are answered quickly. To join just click here.
CAN I PLAY ON MAC OR LINUX?

Unfortunately, no, at this time, you cannot play STORROR PARKOUR PRO on Mac or Linux. It can only be played on compatible Windows PCs.
WHAT DOES EARLY ACCESS MEAN?

With early access, you'll be able to download current demo versions of the game and every new iteration as it's released through to the final version for PC. Plus, you can join the fun on our Discord server, be involved throughout the development process, provide feedback and suggestions, and get unique insights.
WHAT MUST I KNOW BEFORE BUYING?

It's vital to understand you are buying early access to a game in development; STORROR Parkour Pro is in its very early stages, nowhere near a finished product yet. The version currently available is a playable demo. With early access, you can download all new versions for Windows PC as they are released. Also, ensure your PC meets the minimum spec* detailed above – no refund will be given if it doesn't!
HOW DO I PAY FOR EARLY ACCESS?

You can get early access by buying the SPP demo here.
WHAT HAPPENS AFTER I'VE PAID?

Immediately after paying, you should receive two automated emails. These will be sent to the email address that you used to pay. One will contain an order confirmation. The other is from us, giving you a link to download the game file and a link to the SPP Discord Server.
WHAT TO DO IF THE EMAIL HASN'T ARRIVED?

If you've not received the emails, look in your junk mail first and promotions or social tabs, as it may be there. If you still can't find it, just email us at help@storrorparkourpro.com, and you'll get a reply as soon as humanly possible.
CAN I BUY A GIFT CARD?
Collapsible content
WHAT IS DISCORD?

Discord is a communication platform popular with gamers. Early access is managed via our SPP Discord server. You can join fellow parkour and video game enthusiasts, actively participate in the development process with feedback and ideas, or follow progress. Discord sets age restrictions for users. In many regions, the minimum is 13, but in some countries, it's higher – check here and see parental guidance information here.
HOW DOES IT WORK ON DISCORD?

We have a thriving and supportive community on Discord, and you'll get a friendly welcome. Many nationalities are represented, although posts must be written in English. The SPP server is managed by the HITS team, working UK hours. Outside these hours, someone can often help newcomers, as many community members are in different time zones. Our server is moderated; bad behaviour and offensive language are not tolerated.
HOW DO YOU FOLLOW THE GAME'S DEVELOPMENT?
HOW DO I JOIN DISCORD?

Whether you have already bought early access or you're considering it, or if you'd like to follow progress, you are welcome to join the SPP Discord server using this invite link: https://discord.com/invite/dWZW5rbWVY
Collapsible content
HAVE MORE QUESTIONS?

If you'd like more information about STORROR Parkour Pro before deciding to purchase early access, or need help afterwards, email help@storrorparkourpro.com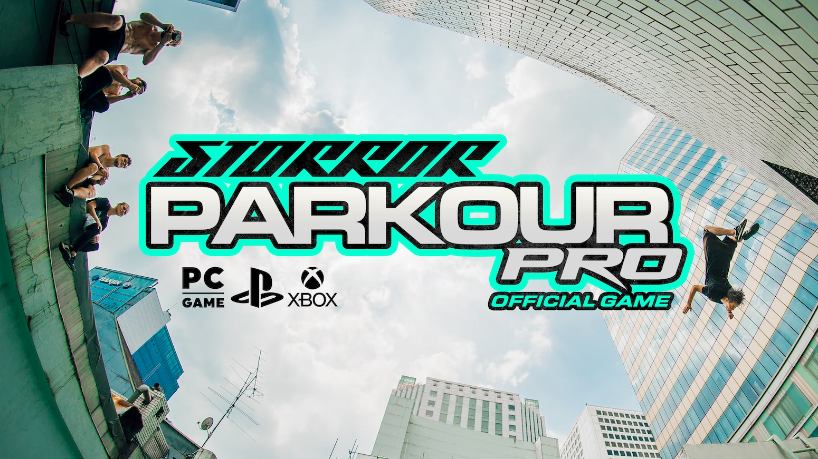 SPP EARLY ACCESS: PC ONLY
Regular price
£20.00 GBP
Sale price
£20.00 GBP
Unit price
per
Sale
Sold out
Before buying check your PC meets the minimum spec below and ensure you read the FAQ for vital details!
Share
View full details